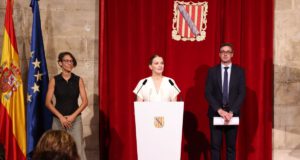 The regional government of the Balearic Islands is fulfilling an election promise. With the passing of a corresponding decree (Decreto Ley 4/ 2023 de 18 de Julio), various taxes will be eliminated and reduced, which should relieve families in particular.
With regard to inheritance and donation tax, foreign property owners will also benefit from the new regulation.
The new regional president Margalida Prohens of the conservative Partido Popular (PP) presented the details of the new regulations to the public on 18 July 2023 in the presence of many representatives of the press.
As early as next week, the package of laws is to be passed in the regional parliament of the Balearic Islands with the votes of the PP and the right-wing conservative VOX party, and thus come into force.
The fact that this declaration took place only five days before the national parliamentary elections, which the social democratic Spanish Prime Minister Pedro Sánchez has scheduled for 23 July 2023, is probably no coincidence.
The new tax regulations essentially concern inheritance and donation law as well as the taxation of the acquisition of real estate used as a primary residence.
In the future, inheritances and donations among family members – parents, children, grandchildren and spouses – will be tax-free. This regulation applies regardless of whether they are Spanish or foreign residents.