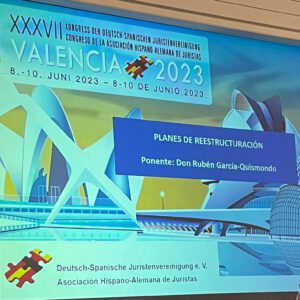 This year's Annual Congress of the German-Spanish Lawyers' Association took place in Valencia from 8 to 10 June 2023.
A high-class event in every respect, with interesting topics on German, Spanish and European law, presented by top-class speakers.
The focus was on topics relating to German-Spanish family and inheritance law in the context of European directives and regulations, restructuring in the preliminary phase of insolvency in accordance with EU Directive 2019/1023, as well as questions relating to the current ESG framework (Environmental, Social and Governance) and its impact on laws and economic matters.
All in all, it was a successful event that also gave the participants an understanding of the many cultural and culinary advantages of Valencia.