.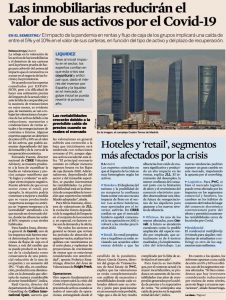 Real estate investors in Spain are finding it necessary to adjust the value of their portfolios to the circumstances. Hotels and the retail sector are particularly affected.
The detailed article in the Spanish business newspaper Expansión published on 5 May 2020 provides a good insight into the situation in Spain.
On the other hand, the crisis also presents opportunities for investors who find an attractive market for new investments.
This is one of the lessons of the European financial crisis of 2008/ 2009, which hit the Spanish real estate market with vehemence.