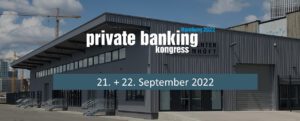 This year, the Private Banking Congress took place again in Hamburg on 21 and 22 September 2022.
A high-class event, organised by the rehblau event agency in cooperation with the Private Banking Magazin and the magazine Das Investment as media partners.
About 400 participants – private bankers, family offices, wealth managers, foundations, pension funds, umbrella investment fund managers and advisors of various kinds, among them the Düsseldorf lawyer Dr Bernhard Idelmann – came to discuss current developments and perspectives in the investment industry and to exchange ideas.
The investor and author Verena Pausder and the Chairman of the Board of the Munich Security Conference and long-time foreign policy advisor to Chancellor Merkel, Dr Christoph Heusgen, gave fascinating keynote speeches on the political geopolitical situation and its impact on the global economy.
Exciting presentations on the current situation and the perspectives of various investments and asset classes were complemented by roundtables, which offered participants the opportunity for direct exchange.
The event was rounded off by an attractive evening programme and the ambience of the port of Hamburg with passing ships, which presented itself in the best late summer weather.